2023 OFFICIAL COMPETITION REQUIREMENTS
Download Requirements as pdf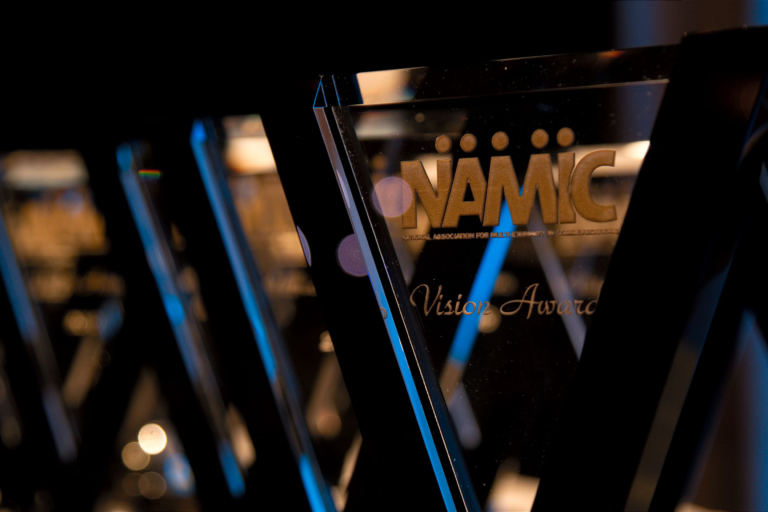 2023 NAMIC VISION AWARDS
CALL FOR ENTRIES
Entry Deadline: Friday, February 03, 2023 by 11:59 PM EST
FEE: $375 Per Entry

Founded in 1994, the 2023 NAMIC Vision Awards will again salute and recognize original content shown on television and/or digital platforms that is reflective of the depth and breadth of the lives, spirit, and contributions of people of color.
AWARDS CATEGORIES
Qualifying programs will be recognized in the following 18 categories:
Animation
Awards & Honors
Children's
Comedy
Documentary
Drama
Foreign Language
Lifestyle
News/Informational
Original Movie or Special
Reality
Reality – Social Issues
Sports
Variety/Talk Show
Best Performance – Comedy
Best Performance – Drama
Digital Media – Short Form (29 minutes or less, may include interstitial programming)
Digital Media – Long Form (30 minutes to one hour)
Click here for category descriptions.
JUDGING CRITERIA
Entries will be judged by a distinguished panel of media and entertainment industry executives based on the following:
Overall imagery (creativity, originality, presentation)
Sensitivity (the consideration given to social or cultural nuances)
Writing (the depiction of issues relevant to people of color)
Acting (the actor has delivered an outstanding performance)
ELIGIBILITY
Those eligible to submit entries include:
Broadcast Networks (National, Network-Owned and Operated, Affiliates)
Cable Networks (National and Regional)
Cable Operators (for local origination programming)
Syndicators (First-Run Original Programs)
VOD content produced by cable and/or broadcast companies for digital platforms — web or mobile
Any production company, distributor, or syndicator (content must have aired/streamed on an eligible platform)
Programs must be original and have aired between November 1, 2021 and November 30, 2022.
ENTRY DEADLINE
Completed entry submissions and payments are due by Friday, February 03, 2023 by 11:59 PM EST.
ENTRY REQUIREMENTS
The following requirements must be addressed for each program entered:
Access. You can provide access credentials/information to access the entry online via your streaming service or you can upload your entry/entries in the following video file formats: .m4v, .mp4, .wmv, or .mov.
Entry fee payment. Submissions that do not include payment will not be considered for judging.
Fully completed online entry form. Be sure to list the entry exactly as you wish it to appear in promotional materials.
Program description and running time (150-word limit).
Network approved credit sheet/cast list.
English language transcript for foreign language programs. English subtitles are also acceptable.
Submission contact, company programming contact, and company publicity contact.
Incomplete or late entries will not be judged. You will be notified if your entry is disqualified for any reason. Entry fees are not refundable.
FOREIGN LANGUAGE ENTRIES
Foreign language programs may be entered in any category as long as English subtitles are included.
ENTRY FEE
The cost per entry is $375, which is payable by credit card or electronic payment via ACH. Submissions that do not include payment will not be considered for judging.
For ACH payment, address questions and requests for banking instructions to Amy Kemp, Programs Associate, at amy.kemp@namic.com.
NAMIC VISION AWARDS TIMELINE
Friday, February 03, 2023 by 11:59 PM EST - Entry Deadline
April 2023 - Nominatons Announcement
May 2023 - Winners Announcement
NOMINEE AND WINNER INFORMATION
If, after judging, your entry is a nominee and/or winner, NAMIC will notify the contact on the official entry form by email in advance of the public announcement.